Hambletonian day Saturday, August 7 was a great day for racing and the Meadowlands. It was also an important day for the New Jersey racing and breeding as it was celebrated with a number of the people that have consistently supported our program.
With an exceptional racing program that paid out purses of $3,664,800 for 16 races and with the handle of $6,487,839 up 13% from the 2020 numbers, we were treated to a dominant gate to wire 1:51 win in the classic $1 Million Hambletonian by race favorite CAPTAIN COREY and trainer-driver Ake Svanstedt, for owners Svanstedt Stable, SRF Stable, Knuttson Trotting and Midnight Sun Partners.
With New Jersey and the Meadowlands on center stage for all the world to see, NJ State Senator Paul Sarlo, Assemblyman John Burzichelli and Secretary of Agriculture Douglas Fisher were front and center in the winner's circle presentation that was featured Nationally on the CBS Sports Network.
Senator Sarlo was co-sponsor of the five-year $100 Million appropriation legislation that revived, if not saved, the NJ Racing and Breeding programs.
The Appropriation legislation not only gave NJ horsemen five years of stability, but part of the legislation stipulated that the NJ horsemen share in the sports betting revenue, which has proven to be an even greater boost to the purse account than anticipated.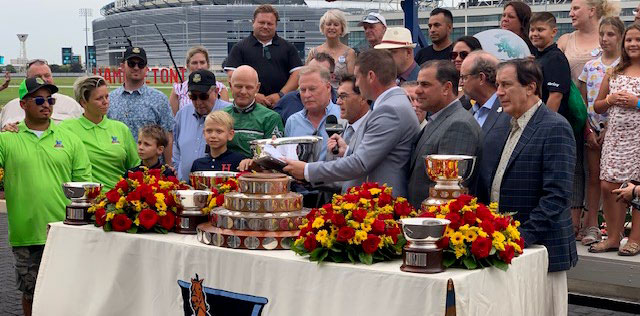 Assemblyman Burzichelli, Deputy Speaker and Appropriations Chairman, co-sponsored the Sports Betting and Appropriation legislation and has been a friend of the SBOANJ and the New Jersey horsemen for over twenty years.
Since his appointment, Secretary of Agriculture Douglas Fisher has monitored the New Jersey Sire Stakes Program, and with the state appropriation has helped the staking requirements become more competitive in today's staking schedule.
With the New Jersey racing and breeding program again thriving, we will be able to next turn our attention to the prestigious $6.3 million Breeders Crown Series. The plan is that it will return to the Meadowlands for the first time since 2016. This championship event plans to be showcased in the fall on the weekends of October 22nd & 23rd and October 29th and 30th.
Clearly, we could not be where we are today without the consistent support of our state legislators and the relationships that we have forged. With their assistance, we believe that the future will bring even more success and prosperity to the Garden State.